This weekend I was served up a diet coke at a restaurant. This act itself is not unusual, however the glass that it came in was….I drank my diet coke out of a mason jar!
Call me crazy, which you probably already do, but I thought that was fantastic! There is something so simple and classic about mason jars. They remind me of country living, minimal and easy going. I just loved this miniature phenomenon so much that I convinced my sister-in-law Amy, thanks btw, to pocket my glass. Once we returned home I opted to drink juice out of my newfound mason jar instead of our other glasses. I even went to Ryan and asked if we could give away all of our current drinking glasses and purchase mason jars…I cannot repeat his response! LOL.
This marvelous event got me thinking, besides drinking glasses mason jars really can serve all sorts of practical uses in the home. So here are a few ideas that I thought would be fantastic in our home!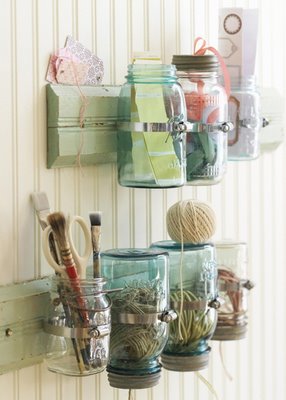 Bathroom storage-a row of these jars would be perfect to store little bathroom items such as Q-Tips, hair barrettes/ties, bath salt, potpourri, etc. They wouldn't look like clutter on the bathroom counter-which is something I cannot stand!
Arts & Crafts Storage- in my office I have limited space dedicated to storing my arts & craft supplies. This concept, side photo, is a perfect example of how mason jars can decoratively store my supplies. It can also contain other office supplies such as paper clips, pens, pencils or sticky notes.
Kitchen storage- just as I mentioned for bathroom storage, mason jars would be perfect for the kitchen as well! Store spices that you use frequently such as flour and sugar. Or use it to store dry pasta, cookies or colorful candy! I think they work particularly well to store food in the kitchen because…duh, it's the kitchen! Ha ha
Home décor- a mason jar will be an unexpected touch of down-to-earth style when used for home décor. I would use three or five (always an odd number) mason jars and fill them with bunches of flowers to be placed throughout my home. Just look at the photo, how pretty is that! In addition to a vase, these little jars would be great for candle holders! Don't have to worry about any messes (and placed around the bath tub would give a spa like feeling)!
Anywho, maybe I'm taking my recent mason jar obsession a little far…but I'm seriously thinking about incorporating these ideas into the house. Given their minimal expense, I can't see a reason not too!
Would love to hear your thoughts!
:)