Previously posted on Skirt.com
A good friend of mine did this and I found it inspirational; especially since I'm not too far from 30! Here are mine (in no particular order) ….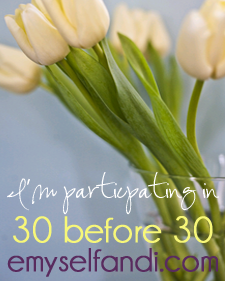 1. Get another dog (Bailey needs a playmate)
2. Mend broken relationships
3. Do a full marathon (run/walk)
4. Take a cake decorating class
5. Take the next step in my career (management)
6. Buy a new car (that I LOVE)!
7. Have a professional maid come in and clean my house
8. Do a home renovation project on my own!
9. Become a mom
10. Create a piece of art (painting or drawing) I'd be willing to hang in my house
11. Get back into scrapbooking; make scrapbook of home renovations
12. Pay off my student loans
13. Read the Bible cover-to-cover
14. Finally be happy with my body
15. Redo two bathrooms in my home (gut & start over)
16. Visit all the wineries in Virginia (that's 156 wineries)
17. Go to Boston and see the RED SOXs play
18. Do another tropical vacation
19. Go camping
20. Not have a farmer's (soccer) tan for one summer!
21. Take a cooking class with Ryan
22. Go on vacation and bring Bailey
23. Paint a mural on a wall in my home (future baby Luce room)
24. Take one full day to watch old classic 80's movies (This list looks good:
http://www.angelfire.com/pq/philgee/movies.html
)
25. Keep a plant alive for longer than 1 week!
26. Convince in-laws to move back down to Virginia
27. Get a Smartphone
28. Run in a race with Ryan (5K, 8K, 10K…whatever!)
29. Make my own greeting cards for every occasion
30. Throw/host an elaborate black-tie affair! (Perhaps for my 30th Birthday)